*In Stock and Ready to Ship!*
Game Details:
Oh no! It's almost Halloween and your best pal Vladimir is raising the dead! Ghouls, Ghosts and, Goblins are now walking the earth. The townsfolk of Saint Crypton have been awakened from their slumber…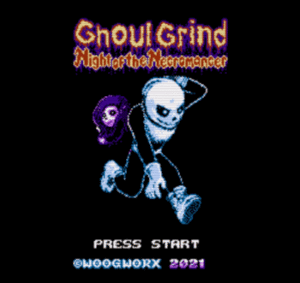 Now it's up to Saint Crypton's own justice seeking vigilante, Nox "Nightser" Francisca and his dagger adept girlfriend Veronica Mimeux, to put their friends and family back to rest and stop the necromancing Vladimir Drachovi from causing havoc! With Nox's Mighty Throwing Axes and Veronica's Magical Daggers, run, jump, shoot, and grind through 6 challenging and ghoulified worlds. can you stop your best friend before midnight strikes on All Hallows Eve?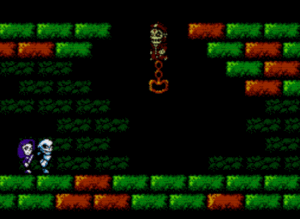 Ghoul Grind: Night of the Necromancer is an auto-scrolling action platformer playable right on your very own Dreamcast. Originally released on the NES and Dreamcast Consoles and PC on October 29th 2021!
The Dreamcast Edition contains:
Ghoul Grind Dreamcast Game Case
Dreamcast Game Disc (Disclaimer: this release comes on a professionally manufactured CD-R)
Full Color Game Instruction Booklet
The Dreamcast version of Ghoul Grind is printed in MIL-CD format. In order to play a MIL-CD formatted disc on your Dreamcast console, you'd need to be using a MIL-CD compatible model. All VA0 and VA1 consoles are MIL-CD compatible.
Your game will be fully tested on official Dreamcast hardware before being sealed and shipped!
About Woog Worx:

A two-man team of gamers making games for retro consoles. They "value retro-games and want to uphold the value that retro-games provide the world". Woog Worx's team consists of:
Woogz – Pixel artist, Game Designer, and Composer.
Worx – Digital Artist, Graphic Designer and Admin.
We at The Bit Station are pleased to carry Woog Worx's latest game for Dreamcast and hope to see more games from Woog Worx in the future.